A Pennington County jury began hearing testimony Monday, Sept. 26 in the case of Eric Reinbold, who is accused of murdering his wife, Lissette, in July 2021.
Eric Reinbold, 46, Oklee, has been charged with two felony counts of second-degree murder. One charge alleges intention without premeditation. The other alleges second-degree murder without intent while committing felony second-degree assault.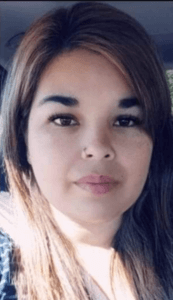 Lissette Reinbold
Lissette Reinbold, 34, was found dead on July 9, 2021, by her teenage son in her driveway. She suffered 27 sharp-force injuries to her hands, neck, and other areas of her body. "For all intents and purposes, the murder weapon has not been found," Assistant Minnesota Attorney General John Gross told jurors.
Eric Reinbold was arrested without incident on a vacant Oklee farmstead after he had been on the lam for 26 days. At the time, he had also been on federal probation for a 2017 federal case in which he was convicted of possessing pipe bombs. Reinbold had been released from federal custody four months earlier after a federal judge granted compassionate release.
Jurors were expected to hear about Eric Reinbold allegedly eluding authorities after his wife's death. They were also expected to hear about his alleged assault of two Pennington County corrections officers 11 months later. In addition, jurors were expected to hear about a 2015 assault case involving the couple and information related to a manifesto in the 2017 federal pipe bomb case.
Opening statements
In his opening statement, Gross said, "Jesus forgive me of my sins." He said a note with this statement was found about 20 feet from Lissette Reinbold's dead body. The sentence was written in pencil on a piece of paper inside the couple's garage. On the same sheet of paper, notes were written in pen about home improvement projects. A handwriting expert will testify it was highly probable that Eric Reinbold wrote the statement, Gross said.
Gross added that Eric Reinbold told a man that he would kill his wife if she cheated on him. He indicated that statement was made a day before Lissette Reinbold's death. He said the couple had significant relationship issues involving finances, sex and Lissette Reinbold working outside of the home. The most important texts, Gross said, involved texts alleging that she had cheated on him. Gross said they were also in constant communication with good morning and good night texts. The last text was sent at 8:46 p.m. the night before Lissette Reinbold's death.
Gross told the jury that they would also hear testimony that Lissette Reinbold had communicated with a female friend at about 6:30 a.m. that day. An hour later, the friend sent a message to her. Lissette Reinbold never opened the message. She was also supposed to work in Thief River Falls at about 8 a.m. that day.
Gross told jurors they would also hear from the Reinbolds' daughter about observing her mom crying two different times the night before the murder. Gross also previewed that a daycare provider would testify about a change in Eric Reinbold's demeanor prior to his wife's death.
Gross further told jurors that they would also hear about footprints found near the Reinbold property after Lissette Reinbold's death. He said the footprints were similar to the tread of the footwear Reinbold was wearing the night he had been arrested.
Eric Reinbold's attorney, Bruce Rivers, said there was no dispute that Lissette Reinbold was brutally stabbed. However, he said the case had a remarkable lack of evidence. Rivers said there was no DNA, no blood, and no other physical evidence that tied his client to the crime. A single strand of male hair, which was found on Lissette Reinbold, didn't match her husband, her kids, or anyone related to the case.
Rivers referred to text messages between the couple, noting some were loving and some were contentious. He said they bickered over money and sex. Recurrent themes in their texts, according to Rivers, was that his client loved his wife and family.
Testimony
The state began presenting its case shortly after opening statements. The single strand of unidentified male hair seemed to figure prominently in some of the questions. The state, represented by Gross and Assistant Pennington County Attorney Max LaCoursiere, asked some of the male witnesses about whether they had been near Lissette Reinbold's body after they had responded to the scene. For his part, Rivers asked many witnesses about the distance between the Reinbold property and the Red Lake Reservation.
Douglas and Tracy Cote were the first people to testify in the case. The Cotes, who are married to one another, volunteer with the Oklee Ambulance Service. They, along with a third volunteer, were the first people to respond to the 911 call. They testified about encountering Lissette Reinbold's two oldest sons.
One boy was on his way to a camper elsewhere on the Reinbold property to notify his stepdad and two younger half-siblings. However, Eric Reinbold wasn't there.
The other boy, who was about 14, joined the first responders in their ambulance after they realized his mom had died from suspicious circumstances. Concerned for their safety and the boy's safety, Douglas Cote drove the ambulance off the property. Then they waited for law enforcement to arrive.
Jurors saw two videos of the scene that had been taken by law enforcement officers. Seth Vettleson, chief deputy with the Pennington County Sheriff's Office, was the first law enforcement officer to arrive. While approaching the area where Lissette Reinbold was found, Vettleson recorded a video. He said he wanted an accurate depiction of the scene before an influx of people arrived.
The Minnesota Bureau of Criminal Apprehension also responded to the scene. Ward Williams, a special agent based in the BCA's regional office in Bemidji, was later tasked with taking photos and videos of the scene.
On both videos, jurors saw Lissette Reinbold's lifeless body lying in a slightly-curled up position on the ground. On one video, her shirt was bloody, and it was apparent that she had suffered deep cuts on one of her hands. Flies were swarming above her body, which was found beside a vehicle. Her legs were between the tires on the driver's side. Her phone was wedged underneath the front driver's side tire. At least one of her feet was bare.
The video also showed the layout of the Reinbold farmstead. A short distance from Lissette Reinbold's body, a sandbox could be seen. A bunch of toys were inside of it. A trampoline was elsewhere on the property.
Lissette Reinbold's mother and other family members were in the courtroom as the BCA video was played. Shortly after seeing her daughter's lifeless body lying on the ground, Elvia Juarez began crying and quickly left the courtroom.
Later, outside of the jury's presence, Rivers commented to Judge Tamara Yon about Juarez's outburst. Noting he wasn't disparaging Juarez, Rivers said it wasn't the first time she had been demonstrative that day. However, this time was more noticeable. Rivers said something needed to be done if it happened again.
Gross told Yon that he had warned family members about graphic testimony. He planned to caution them again since he expected Lissette Reinbold's autopsy photos may be shown the following day.
Yon responded that she understood the difficulty experienced by family members and friends attending the trial. However, she said they can't cause a distraction when evidence is being presented or when the jury is hearing evidence. Yon encouraged Gross to remind family members and friends to take a break from the courtroom if needed and return when they are ready.
Jurors also heard testimony about footprints found near the Reinbold home. Pennington County Sheriff Ray Kuznia testified that he and other officers searched near the Red Lake River, which is adjacent to the Reinbold property. They found footprints inside and outside of the water south of the home. Kuznia testified the footprints were a significant distance away from the camper where Eric Reinbold had been staying. He couldn't recall whether they had found any footprints on the other side of the riverbank or any footprints leading out of the river. The search apparently occurred after a wet dog appeared on the Reinbolds' property. Kuznia said they never learned the identity of the person who owned the dog.
The couple's vehicles were all located at the scene. Thinking that Eric Reinbold had allegedly left the scene on foot, K-9 Max was brought there. K-9 handler Mike Roff, who also works as an investigator with the Thief River Falls Police Department, testified that Max was unable to track a scent.
Roff also testified about searches allegedly connected to Eric Reinbold's most recent Gmail account. Three days before Lissette Reinbold's death, there were searches about how to tell if a woman is cheating on her husband; fruits and vegetables that don't need to be refrigerated; and portable power banks. The previous month, there were searches related to mosquito netting, solar-powered refrigerators, and how to prepare snapping turtles for consumption. In May 2021, according to Roff, there were searches pertaining to eating June bugs, foraging for nuts and fruits, and building earthen shelters in wooded areas.
Under cross-examination, both Roff and Williams admitted they didn't believe that Eric Reinbold's camper had electricity.
Upcoming testimony
On Tuesday, it was expected that jurors would hear testimony regarding trail camera footage on which Eric Reinbold was allegedly observed following his wife's death.