The details are being finalized for the trial of a rural Oklee man accused of murdering his wife in July 2021.
Eric James Reinbold, 46, Oklee, has been charged with two felony counts of second-degree murder, including one count alleging intentional murder. Those charges stemmed from the July 9, 2021, death of his wife, Lissette.
Lissette Reinbold, 34, was found dead by one of her children in her driveway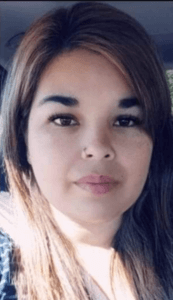 Lissette Reinbold
According to court documents, she had been stabbed 27 times. She suffered wounds to her neck, torso and upper extremities. The medical examiner provisionally determined she died from blood loss. The manner of death was determined to be homicide.
Eric Reinbold was arrested without incident on a vacant Oklee farmstead after he had been on the lam for 26 days. At the time, he had also been on federal probation for a 2017 federal case in which he was convicted of possessing pipe bombs. Reinbold had been released from federal custody four months earlier after a federal judge granted compassionate release.
Jury selection is set to begin Wednesday, Sept. 21 in the murder case. The first panel of 40 jurors will be called to appear that morning. At least two panels of jurors have been called for the case. A total of 14 jurors, including two alternates, will hear the case.
At the earliest, it is believed that jurors may start hearing the case Monday, Sept. 26 with the case expected to continue through Friday, Oct. 7.
Reinbold's attorney, Bruce Rivers, expected that juror selection may take a substantial period of time. In particular, Rivers referred to the ability to find jurors who haven't heard about the case or haven't formed an opinion. Rivers indicated the murder case is a high-profile case, and he also referred to two other high-profile cases involving Eric Reinbold. Prior to Tuesday's pre-trial hearing, Rivers had filed a motion to change the venue of the case. Judge Tamara Yon denied the motion at that time; instead, she postponed the start of the trial by two days to Sept. 21.
At the final pre-trial hearing in the case Tuesday, the parties briefly discussed potential jury instructions. Rivers wished to include an additional lesser or included offense of first degree manslaughter. Yon deferred making a ruling on including that instruction until just prior to the start of the trial.
The trial will be held in a courtroom at the Justice Center. Due to the COVID-19 pandemic, multiple viewing rooms were available for individuals to watch the last murder trial in Pennington County. That won't be the case in the Reinbold trial. Law enforcement will ensure that the courtroom hasn't reached maximum occupancy.
Reinbold will be wearing a knee-lock restraint during the trial. Yon granted a state motion related to that request. The restraint will not be visible to jurors and will be located under clothing. At an earlier pre-trial hearing, Minnesota Assistant Attorney General John Gross pointed out that Reinbold had evaded arrest for two days after the 2015 assault case, was caught in Kansas after the federal pipe bomb case was filed, and was on the lam for about three weeks after Lissette Reinbold was found dead. Gross also referred to the pending assault and escape case. At Tuesday's hearing, Rivers argued that there had been some time since the initial incident involving Reinbold's alleged escape.
Besides the murder charges, Reinbold faces charges after he allegedly assaulted two Pennington County Jail corrections officers in an attempt to escape custody June 4, 2022. A female corrections officer suffered a head injury and was transported by ambulance to Sanford Medical Center. A male corrections officer also went to Sanford. The complaint indicated that the latter corrections officer had suffered back problems in the past and he felt additional back pain after this incident. He was checked out and released from Sanford.
Scheduled to start next week, the trial only pertains to the murder case. For that case, Lissette Reinbold's three oldest children, who are now between the ages of 11 and 14, are expected to testify. Yon granted a motion allowing a support person to attend court with the children while they are testifying. Gross referred to Lissette Reinbold's sister as one of several potential support people. Her sister is expected to be the first witness to testify for the state's case and is not expected to be recalled to testify or to rebut other individuals' testimony.
Yon has yet to officially rule on other motions related to the case. In particular, she gave Rivers time to prepare a written response as to whether he would be allowed to impeach Dr. Michael McGee, a medical examiner. Gross sought to preclude any mention of past issues involving McGee's testimony in two prior, unrelated cases elsewhere. One of those cases involved McGee's testimony in United States vs. Alfonso Rodriguez Jr. Rodriguez was convicted of murdering Dru Sjodin.