UPDATE: The jury was seated Wednesday. Jurors are expected to start hearing the case Monday, Sept. 26.
The high-profile murder trial of Eric James Reinbold, 46, Oklee, began Wednesday, Sept. 21 in Thief River Falls. Jury selection began that morning, but moments earlier, Judge Tamara Yon ruled on a defense motion to move the case to a different county due to publicity.
Reinbold has been charged with two felony counts of second-degree murder, including one count alleging intentional murder. Those charges stemmed from the July 9, 2021, death of his wife, Lissette.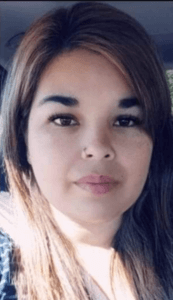 Lissette Reinbold
Lissette Reinbold, 34, was found dead by one of her children in her driveway. According to court documents, she had been stabbed 27 times.
Eric Reinbold was arrested without incident on a vacant Oklee farmstead after he had been on the lam for 26 days. At the time, he had also been on federal probation for a 2017 federal case in which he was convicted of possessing pipe bombs. Reinbold had been released from federal custody four months earlier after a federal judge granted compassionate release.
Jury selection began Wednesday in the case. It is expected that jurors may hear testimony in the case starting Monday, Sept. 26. The trial is expected to continue through Tuesday, Oct. 11.
Earlier this week, Reinbold's attorney, Bruce Rivers, sought to move the jury trial to Hennepin County or to a county outside of the Pennington County, Grand Forks and Fargo/Moorhead media markets. Rivers indicated the jury pool was tainted by the constant local media coverage.
Rivers' motion was filed during the evening hours of Monday, Sept. 19. The state, represented by Assistant Minnesota Attorney General John Gross and Assistant Pennington County Attorney Max LaCoursiere, filed its response Tuesday.
Moments before jury selection was set to begin Wednesday, Yon heard arguments and issued a decision on the matter.
In court, Rivers told Yon that he doesn't file such motions lightly. He said there was only one other time that he recalled filing a motion to change venue.
Rivers added that he had never seen so many prospective jurors who said they couldn't be fair or wouldn't be willing to reserve judgment. In his motion, Rivers wrote that no level of voir dire of potential jurors would enable his client to obtain a fair trial in Pennington County. Voir dire is a preliminary examination of a prospective juror by counsel and/or the judge to determine if that individual should serve on a jury.
In court, Gross replied that Rivers hadn't met the threshold for obtaining a change of venue. He called the motion premature. Earlier this week, the attorneys met to review the jury questionnaires. Gross said they agreed to remove some of the prospective jurors due to their responses to the questionnaire.
Yon denied Rivers' motion, declining to change the venue based on pre-trial publicity. She said she appreciated that the attorneys had already consulted with one another to excuse some prospective jurors. Yon added that the voir dire process would enable the attorneys to question each of the prospective jurors. If more jurors were needed, Yon said more may be called. She further noted that Rivers could renew his motion later if he saw fit.
In addition to a change of venue, Rivers sought to question prospective jurors one-by-one. He raised concerns about how a particular prospective juror's answers may taint the jury pool.
Gross advocated keeping the same plan of questioning perspective jurors in front of one another. He indicated that at least one prospective juror requested to speak privately.
It appeared that Yon was open to one-on-one questioning if needed.
Yon also planned to seat three alternate jurors in the event a juror became ill during the course of the trial. Initially, the plan was to seat 12 jurors and two alternates.
The trial is expected to continue through Tuesday, Oct. 11. The start had been postponed by two days after an earlier motion to change the venue was denied.
Change of venue motion
Rivers' motion detailed various reasons why he felt that the trial should be moved to a location other than Thief River Falls. In making his request, he wrote there was a higher likelihood that a Pennington County resident, not a Hennepin County resident, would come across a story involving Reinbold.
Specifically, Rivers referred to an article about the case in the Sept. 17 edition of the Northern Watch. That particular article is included as an exhibit in Rivers' motion. In the article, it was noted that Reinbold would be wearing a knee-lock restraint. The article stated the restraint will not be visible to jurors and will be located under clothing.
In his motion, Rivers said the article further tainted the jury pool. He wrote, "It appears that the state's argument that the restraint will be barely noticeable has now fallen subject to the media's coverage of the device."
With regard to that particular Northern Watch article, Gross wrote that the article "again appears to only contain factual information and contains no opinions from public officials."
Some of the media coverage asked residents to call law enforcement with any tips regarding Reinbold's whereabouts. Rivers also detailed the methods used in an attempt to apprehend his client, indicating that the Pennington County Sheriff's Office sent flyers to area homes in order to seek tips. Since Reinbold lived in the rural Oklee area, the Red Lake County Sheriff's Office sent automated calls to residents. Those calls, according to Rivers, referred to Reinbold as being "armed and dangerous" during the "manhunt." In his response, Gross said it was believed those phone calls were only made to Red Lake County residents.
In his response, Gross wrote that Rivers "tries to claim that the press releases while [Reinbold] was eluding law enforcement somehow has tainted the jury pool. However, none of the press releases and newspaper articles indicate an opinion by a single public official that [Reinbold] is 'guilty' of the offenses charged."
On Thursday, Sept. 15, Rivers obtained an updated version of the jury questionnaires. He cited that 88 out of the 96 prospective jurors heard about Reinbold's "current case through at least one form of media or by word of mouth. Most of the jurors had heard of the case through television, the newspaper or the internet. Many had discussed the case with their friends. Over a majority of them had heard about the 'manhunt' for the defendant."
According to Rivers, 44 out of the 96 prospective jurors "explicitly stated that they either believed he was guilty or that it would be difficult for them to find him innocent. A number of these potential jurors expressed unequivocal support for giving the defendant the death penalty. Still, even more jurors stated that the evidence as presented points toward his guilt but did not explicitly state that he was guilty or that they would have a difficult time finding him not guilty."
Rivers also referred to 16 "troubling quotes" from potential jurors that referred to his client's alleged guilt. He also cited some responses that referred to past cases involving Reinbold and/or his wife and/or what should be done to Reinbold for his alleged crime.
"It is very clear that many members of the public have been following this case for some time and have developed strong feelings about [Reinbold]. Furthermore, many members of the jury pool are aware of [Reinbold's] past charges and convictions. The facts, statistics and quotes show that a significant portion of the community has already made up their mind about [Reinbold]."
Rivers wrote that bias against Reinbold "has pervaded the pool of potential jurors because of constant media coverage. Only 8.3% of the potential juror pool had not heard of the case."
In his motion, Rivers also referred to the jobs of some prospective jurors. He indicated they included an officer who responded to the scene, at least two jurors who knew Reinbold through their law enforcement jobs, and an individual who "works for a media company that heavily covered this case." That individual works for The Times/Northern Watch, and her job doesn't involve writing or handling articles regarding the case.
Gross responded that, prior to Rivers' motion, the attorneys had already agreed to excuse four prospective jurors to which Rivers referred. Those prospective jurors knew information regarding Reinbold that isn't admissible at trial or they made it known that they wouldn't follow the court's instructions. Regarding the other prospective jurors mentioned, Gross wrote they "reported that they could follow the law and the court's instructions." Gross advocated questioning those individuals further in voir dire.
In his motion, Rivers wrote that moving the trial to Hennepin County would be more convenient for him and Gross. However, he noted LaCoursiere would have to travel from Pennington County. Regarding the witnesses from Pennington and Red Lake counties, he wrote that they may have to travel there or the judge in the new venue may allow them to appear virtually.
In his response, Gross countered that "almost all of the witnesses, the court, [Eric Reinbold's] family and [Lissette Reinbold's] family live in northwestern Minnesota. The convenience of two attorneys and staff cannot outweigh everything else."
State's response about media reports
Gross wrote that the media reports came from "the probable cause portion of the publicly filed complaint or directly from the hearings that occurred after [Eric Reinbold's] arrest." He indicated that there may have been other articles or reports about some of the public search warrants. "Any information from a complaint 'cannot be considered prejudicial because it was a purely factual report,'" he wrote.
Gross added that he wasn't aware of any press reports "that could be considered 'hostile' to [Reinbold] or an expressed opinion about [Reinbold's] guilt, which is necessary to justify a change of venue."
Gross indicated that the attorneys would be able to tailor their questions to the prospective jurors. These questions would enable the attorneys to see if jurors would be able to "set aside what they heard about the case and base their decision on evidence presented in the courtroom. The answers to those questions will determine whether a fair jury can be picked in Pennington County, not speculation from news reports or cherry-picked answers from selected questionnaires," Gross wrote.
In his response, Gross noted that 14 months had passed since the death of Lissette Reinbold. "The passage of time helps lessen any prejudice," he wrote.