The Pennington County jury pool will soon be receiving jury questionnaires for the murder trial of Eric James Reinbold.
On Tuesday, July 19, the attorneys briefly discussed the jury questionnaire with Judge Tamara Yon. They also discussed some procedural motions in the case, which is set to be tried Sept. 19 through Oct. 7 in Thief River Falls.
Reinbold, 45, Oklee, has been charged with two felony counts of second degree murder, including one count alleging intentional murder. Those charges stemmed from the July 9, 2021, death of his wife, Lissette.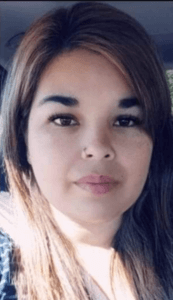 Lissette Reinbold
Lissette Reinbold, 34, was found dead by one of her children in her driveway. According to court documents, she had been stabbed 27 times. She suffered wounds to her neck, torso and upper extremities. The medical examiner provisionally determined she died from blood loss. The manner of death was determined to be homicide.
Eric Reinbold was arrested without incident on a vacant Oklee farmstead after he had been on the lam for 26 days. At the time, he had also been on federal probation for a 2017 federal case in which he was convicted of possessing pipe bombs. Reinbold had been released from federal custody four months earlier after a federal judge granted compassionate release.
Besides the murder charges, Reinbold faces charges after he allegedly assaulted two Pennington County Jail corrections officers in an attempt to escape custody June 4, 2022. A female corrections officer suffered a head injury and was transported by ambulance to Sanford Medical Center. A male corrections officer also went to Sanford. The complaint indicated that the latter corrections officer had suffered back problems in the past and he felt additional back pain after this incident. He was checked out and released from Sanford.
Tuesday's court hearing
On Tuesday, Yon heard arguments related to motions pertaining to the murder case. A large amount of evidence has been collected in connection with that case.
Minnesota Assistant Attorney General John Gross indicated his office has provided more than 3,700 items to the office of Reinbold's attorney, Bruce Rivers. Gross said he was still waiting for additional fingerprints from Reinbold. The state plans to obtain them to compare them to fingerprints found on an unsigned note located at the Reinbolds' home. The note said "Jesus, forgive me of my sins." In particular, the state would like prints of Reinbold's fingertips. The fingertip prints aren't currently on file. Reinbold was expected to comply with the request in the near future.
Gross also sought additional information from Rivers' office, including any information regarding conversations Rivers has had with Reinbold's parents. He indicated that Reinbold's parents are witnesses in the case.
Rivers replied that Reinbold's parents are fighting a Children in Need of Protection or Services case involving Reinbold's two children. He indicated he didn't have anything to provide Gross at this time.
At least three of Lissette Reinbold's four children are expected to testify at the murder trial. Gross sought the ability to use their forensic interviews when needed. Those interviews were completed shortly after their mother's death. If Yon were to rule in favor of the state's motion, Rivers advocated using partial statements on an ad hoc basis.
The state and defense have filed at least 20 motions so far in connection with the case. Some of the motions pertained to information related to Lissette Reinbold's purported activities. In the course of the investigation, it was determined that she had allegedly been involved with Telemania. Rivers said his office subpoenaed Telemania, an online sex line, for its records. He told Yon that it is believed his client's wife worked for the site. Rivers indicated that it's unknown whether he will use that information at trial. Gross has filed a motion seeking to preclude the Telemania information from the trial, saying it was irrelevant.
A significant amount of Tuesday's hearing was devoted to motions related to Eric Reinbold's alleged actions before and after Lissette Reinbold was found dead.
Gross seeks to impeach Eric Reinbold with his prior convictions, federal probationary status and alleged attempted escape. The case is a largely circumstantial case since there are no eyewitnesses, Gross said. He referred to Reinbold's lack of credibility and also pointed to Reinbold's alleged escape attempt as consciousness of guilt.
Rivers countered there was no benefit to mentioning Reinbold's federal pipe bomb case. If Reinbold were to testify and Yon allowed evidence regarding the felonies, Rivers said the information should be sanitized.
Gross also wants to introduce evidence that Reinbold employed a common theme in his past crimes and the alleged murder of his wife. He cited the 2015 second degree assault case in which Reinbold rammed his wife's vehicle three to four times while it was occupied by her and two children. He also referred to text messages between the couple from March 2021 to the day of the murder. In addition, Gross cited Reinbold's 2015 manifesto in which the writings showed he targeted women and attorneys representing women's rights.
Rivers opposed Gross' motions, saying the 2015 case involved Reinbold pushing his wife's car about 10 feet. Rivers added that the manifesto has no bearing on this case since the manifesto featured Reinbold's private ramblings regarding a video game he was creating in his head. In reference to the case involving the corrections officers, he said Reinbold could have allegedly assaulted a male corrections officer instead of the female corrections officer, who was approached first.
Besides seeking to introduce testimony related to Reinbold's past criminal history, the state is also seeking to use a physical restraint system during the trial. Gross said a knee-lock restraint, underneath Reinbold's clothing, would be appropriate. He pointed out that Reinbold had evaded arrest for two days after the 2015 assault case, was caught in Kansas after the federal pipe bomb case was filed, and was on the lam for about three weeks after Lissette Reinbold was found dead. Gross also referred to the pending assault and escape case.
Rivers opposed the use of a restraint, saying it would have a chilling effect on Eric Reinbold's right to a fair trial. He indicated that he represented Reinbold in the federal pipe bomb case in Fergus Falls, where no restraints were sought or used. Rivers added there were no security incidents with Reinbold at that trial. He said his client has assured him that nothing would happen at the upcoming trial.